Go to Tools -->Registration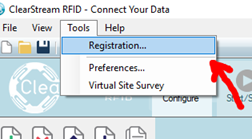 Click the Trial Info Tab --> Request trial code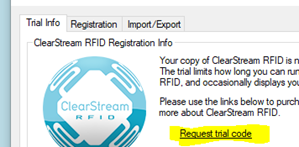 It will open a new window to www.clearstreamrfid.com fill out the required fields. You will notice that your PC ID auto-populates. You will need a company email address for the download.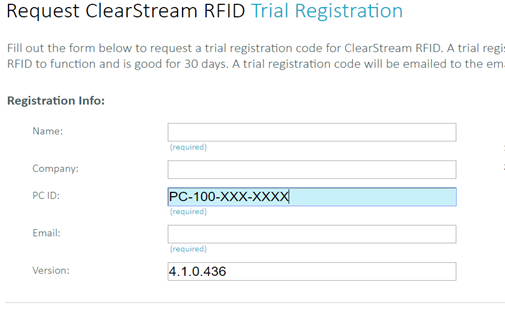 You will receive an email from our ClearStream registration system with a trial code and trial expiration date which is 30 days from the request date.
Simply, go back into Tools - Registration - Registration tab and enter the registration code. The status will change and a box will appear with the expiration date.

PLEASE NOTE:
If this is not your first time installing or your first trial request, you may need to uninstall and reinstall the software. If the software says your trial has already expired after entering the trial code, it could be because your date/time settings are not the same as our defaults. ( our date format is MM/DD/YYYY )
Please follow the instructions below.
How to Uninstall
Uninstall ClearStream

Delete- C:\

ProgramData

\PTS\
(please back up all work before deleting**)
NOTE: This folder is hidden by default, you may need to show hidden folders in order to access it.