Installing the ClearStream On-Board Application
If the application has not yet been installed on the reader follow the steps below to install. You can download the latest version here: ClearStream RFID On-Board
Use a web browser to open the Zebra Reader web configuration utility, and login (default User: admin, password: change)
Select The Application Menu Option:
Click the Browser button on the bottom of the page.
Navigate to the deb package file, and click Install
Click the Start/Stop circle icon (it should change from Red to Green when running)
Click the AutoStart checkbox to allow the application to start when plugged in.
To activate the reader you will need to know the MAC address of the reader. This can typically be found on the label printed on the bottom of the device, or it can be found on the Communication menu of the web console, as seen in the screen shot below.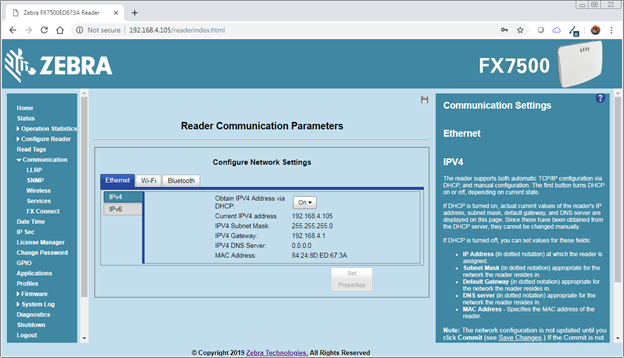 Next Steps: Add your device to the web portal